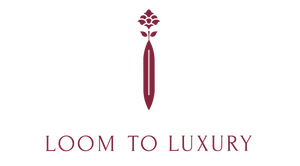 Loom to Luxury Private Limited is a social enterprise founded in 2013 by native Jitendra Kumar.  Kumar studied textile design at the Inter National Institute of Fashion Technology in Chandigarh, India, during which time he traveled to Varanasi to learn about the Jacquard hand loom. At the same time he became heartened by the critical plight of the local weavers who were either struggling to feed their families or leaving the craft entirely and committed to one day return.

The key to sustainability for these weavers lies in market access. With the local sari market diminishing, weavers must look elsewhere for orders, but are then often met with challenges to meet the quality standards of an export market.

Loom to Luxury serves as a bridge between the weavers and these buyers. It handles all marketing and communication, as well as product development and design creation with buyers and then passes orders to master weavers. Loom to Luxury is headquartered in city of Varanasi with a staff of 12 people and a current roster of 37 full time weavers are located in the surrounding rural villages of Kotwa and Ayodhapur.
While quality and design needs to stand at the forefront of product design, Loom to Luxury upholds a high standard when it comes to the social wellbeing of its weavers and their communities.
Below is an overview of the pillars of its social mission:


FAIR WAGES

One of the core principals of Loom to Luxury's business model is ensuring fair wages for its weavers. Through interviews and conversations with his weavers, Kumar has created a formula for calculating wages based on their daily needs of food, education and health. On average, a weaver's house hold is comprised of 8-10 people and is dependent upon 1 – 2 sources of income. From this model he as determined a compensation of Rs 240 per day, well above the local minimum of Rs 140 per day. 

Needs per day/per family Cost breakdown per day
1 1⁄2 kg of rice Rice – INR 52
750 g wheat Wheat – INR 10.5
750 g dal Dal – INR 60
Vegetable (1 kg potato, 1⁄2 kg greens) Vegetables – INR 25
Fuel for 4.5 hrs Gas – INR 10
50 g spices Spices – INR 25


Additional needs (basic medications, education, family needs) – INR 37.5


CRAFT PRESERVATION


The art of handloom Jacquard weaving is one that goes back hundreds of years in Varanasi and spans generations, the skill being handed down from father to son. Loom to Luxury weaves exclusively with Jacquard hand looms using traditional techniques to create modern designs and showcase the vast abilities of this loom. A line of traditional Banarasi saris based on collected vintage pieces is also ensuring the original patterns are preserved. 


Preservation of this knowledge and skill, however, requires the intel to continue to be passed down to a new generation of weavers to stay alive. Loom to Luxury has put a focus on the recruitment and training of younger weavers who can see the craft as a heritage to be saved, as well as a source of income for their families. One recent success in that mission was the graduation of Loom to Luxury's weaver Suresh from The Handloom School in Maheshwar where he not only learned technical weaving and design skills, but also a beginner course into the management and production side of the trade. It is with high hopes that students like Suresh will be able to share his knowledge and experience with other young weavers in his community.


WOMEN'S EMPOWERMENT

Due to the physical strength needed to operate the Jacquard loom, the actual weaving has traditionally be carried by men. However, from the start to finish of a piece, women play a critical role in the weaving process. Women – wives, sisters, daughters, mothers of the weavers – are responsible for all of the preparation and spinning of weft yarns needed for weaving and cutwork and finishing of the final fabric. Loom to Luxury is committed to the inclusion and empowerment of women as a source of additional income for the family as well as to develop a greater sense of pride and confidence with these women.


ARTISAN WELLBEING

If you are to visit weaving facilities around Varanasi, the conditions are sadly not adequate to ensure the proper health and livelihood of these weavers. Due to commonly cramped, dark and damp spaces, in addition to small fibers circulating in the air, tuberculosis is highly prevalent among the community of handloom weavers, but is a condition that can be eradicated with the right environment.

Loom to Luxury has invested in building a small weaving facility for weavers in the village of Ayodhapur that addresses these issues, as well as aided individual weavers with improvements of their home work spaces. In partnership with Nest, construction on a new hand loom atelier workshop will be built for the weavers.

The atelier, designed intimately with Jitendra and his weavers, will address the intricate needs of their craft, creating a safe, health and inspirational place for them to work. In addition the health and wellbeing benefits, the atelier will be built with a keen focus on efficiency of the production process, helping Loom to Luxury to be more competitive in the market, which leads to less wastage and more orders for the weavers themselves.